Hey guys , do you want to learn what is blog and how to start a blog?
A blog is a forum for conversation or information published on the World Wide Web composed of discrete, frequently casual text entries (posts) in the diary style. … Until 2009, blogs were generally the work of a single author, often of a small group, and mostly covered a single topic or subject.
You just follow these steps when you are starting your first blog :
Choose a perfect niche for your blog
Choose a perfect blogging platform
Pick a good domain name
Get a good hosting account
Starting a blog on wordpress platform
Then after select one good theme and design your blog
Write a super content
Earn Money
Choose a perfect niche for your blog
First we should select the good and perfect niche for your blog . When you think about niche then think first Which niche that are you interested in , and after choose your blog niche. This strategy is most important because you will enjoying and you will start your very good journey in blogging.
Second thing , after you decided your blog niche then One thing you must check , your niche has enough audience interest or not.
when these all steps completed then proceed further , first check the niche size and Analyze monetization potential .
This process will help you lot to gain a perfect idea to choose a perfect niche and Potential for monetization for your suggested niche.
Step 2 : Choose a perfect blogging platform
There are many blogging platform like blogger , wordpress , Wix ,…..etc
just you will need to look at platform which make is very easy for you and after Determine the sort of programme for blog management you will be using. I personally recommend you to make your own blog using the self hosted setup.
If you don't know what is selft-hosted and anything then don't worry i will make proper understand to you.
You have two options to comes popular blogging site ,
Hosted blog solutions
Self-hosted blog solutions
Hosted blog solutions
It's enticing to use free hosted sites, such as WordPress.com or Blogger.com, with many new bloggers.
First, the name of your blog is set as a subdomain (for instance, yourblog.wordpress.com or yourblog.blogspot.com). Second, you will be bound to their laws and limitations,
Still, if you're serious about blogging, sooner or later, you'll have to start paying for total resources and a personalised domain name.
Self-hosted blog solutions
You have a few options with regards to self-hosted frameworks. The most well known is the free and open-source framework WordPress.org and blogger.
Self-hosted stages encourage you to use your own region and web hosting to set up and manage your blog. For your blog and its contents, you are solely liable. For the webspace (hosting account), it will cost just a few dollars for each month, and about ten dollars for a custom area name for each year. Genuine programming for blogging is free.
In the event that you intend to run advertisements, sell items, or administrations through your blog, at that point this is the most ideal approach. Many hosting suppliers can assist you with keeping up a web based business blog.
Pick a good domain name
A domain name is the url where the website can be viewed by Internet users. A domain name is used for locating and distinguishing machines on the Internet .
Users who are aware of your domain (/URL) will easily type it into the address bar of their browser. So people will be able to locate you via search engines like google , bing , yahoo….etc .That's why you need to find a unique name.
The very highly popular "dot com" may be your domain name. The basic rule is to opt with a domain "dot com," but it will operate for any of the other extensions. For instance , "dot net" or "dot blog".
Get a good hosting account
One of the most critical choices you make would be to choose a secure hosting provider after choosing the good domain name .
The site's accessibility and output would rely on the hosting of the blog to a large degree. The host means that the website is open to future readers 24/7 and it is where your material and archives are kept online.
Most hosting providers can also supply you with a free domain for the first year when you use their services,
Just imagine choosing a mobile business that doesn't have any reception. In order to build a good blog, the web host is a big piece of the puzzle; you must also select a reputable provider.
Starting a blog on wordpress platform
I'll teach you how to build a Bluehost blog. I included screenshots of the pageg you have to go through.
1 . Go to Bluehost site
Just click here and you will reach Bluehost Website. and then select your hosting package .
2 . Set up your domain name
In this "new domain" box, only key in the desired name and Bluehost will inform you whether or not it is available. If not, a list of related names to pick from will be given.
3 . Using bluehost to register
Bluehost will take you to the login page after you pick your domain name, where you can manually fill in your personal information, or you can log in to make the process much simpler using your Google account !
4 . Create your account
Click the Create your account button
Enter your password
Click the Go to login button
Fill this Email or Domain Name and Password
Now you're all done , you can start working on your blog design process.
Select one good theme and design your blog
Your blog is need to good design and good layout so you need to install and setting up a new wordpress theme.
In wordpress dashboard , you have just click the Appearance tab and click the themes button . after you can see premium and free themes . More than thousand themes available on WordPress.org.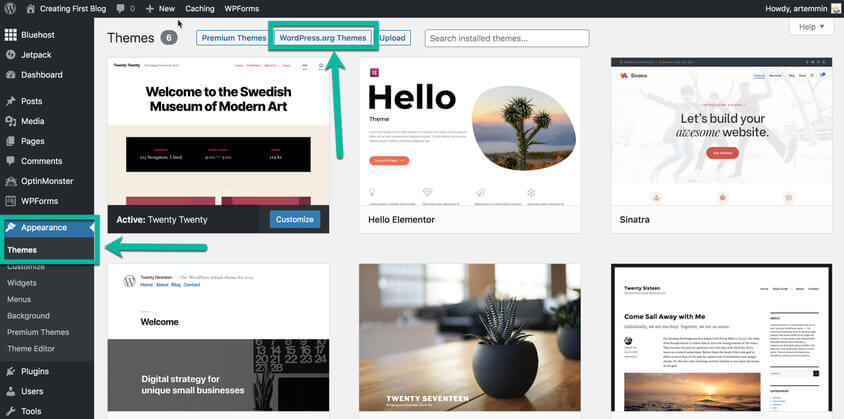 Here , I guide to you guys how to choose and which thing is important to choose your WordPress theme.
Read the theme description : Most of themes have a discription with features and functionallity . Read them carefully so can understand which theme is matches to our needs.
Once Preview the theme which you selected : To get an idea how theme is looking and how to customize that.
Chech the Ratings your theme : You can see easily start ratings in the site preview so you can get a proper idea how theme is looking and see all pages layout too.
Once you install a theme then after you'll have to fill it in with content (text, photos, videos, etc.).
Write a super content
You have set up a domain name so far, picked your blog hosting site, set up the blog theme, and you're ready to go. Your structure is complete.
Now , you have to learn how to write content for blogs. Your content must be something valuable that people want to communicate with and come back for more. but one question is coming your mind what is content? Don't worry guys , any useful information that you share like the form of text, photos, infographics, or videos. with readers is called "content."
You need to worry about this two blocks, the pre-launch and post-launch content :
Pre-launch content
You want to make sure that static sites (such as About Us, Email, etc.) and other parts of your blog (Sidebar, Footer, etc.) are loaded with appropriate details before you start writing your day-to-day blog posts.
Homepage : This depends on the type of blog style that you pick. As I mentioned above, you can opt to display your blog's homepage as a static page while customizing your blog.
About us : This page shows new site users what it's all about, who you are and why you're running a blog about your niche topic.
Contact us : This page lets your blog readers interact with you. With your email address plus your social network connections, it can be a simple website or you can use a simple communication form that guests can use to connect with you.
Post-launch content
Posts : A blog post is an article that you will write on a blog . It can include content in the form of text, photos, infographics, or videos.
Pages : A blog page supplies readers with static content or facts. A blog page may also be a pillar of data that remains important to its readers. This guide that you are reading right now, for starters.
Content is not restricted to material in prose. Other content forms are easily missed! Numerous types of content are also better used to offer your readers more than one way to access information from your site.
Earn Money from blogging
Here , There are several options from which to choose :
Running ads on your blog
In your blog, there are smooth possibilities for you to run advertisements. You can vote for advertisements that are unique to what you are writing about, regardless of your specialty, or ads that actually suit the needs of your advertiser better. Google adsense is one of the best popular choice for ads.
By affiliate Marketing programs
Affiliate schemes are opportunities to partner up with retailers and advertise their products and profit from a fee to effectively perform purchases.
There are a few popular online sites that provide partner services that you can register for, such as Amazon Associates, ShareASale, clickbank etc.
Sponsored posts
Advertisers are still searching for publicity and are happy to pay you to write a paid blog post. These posts typically support the goods or services of advertisers and are a decent way to gain some extra money from your site.
Follow Technewstp for the latest tech news , Tips and tricks also keep up with us on Twitter, Facebook, and Instagram.